E46 The Two Hundred
Symbolism, The 100 & Roger Persona Trivia
1 year ago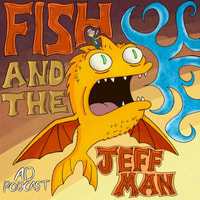 WAAH, WAAH, IT'S THE TWO HUNDRED...
This month, we discuss the symbolism of the two hundredth episode of American Dad (forgot to mention Stan's 20th Century Fox tattoos!), who would be who in the CW's The 100, the Cern Large Hadron Collider, and many quotes from many Rogers.
Thank you to our sponsors: Skyler Vickery, NoDeuces, and Jake Wendelken!
Another thank you to M & K for the lovely review on Apple Podcasts! We see you, and we hear you.
Check us out on Instagram (but don't get your hopes up): @bestofamericandad
Support American Dad! by contributing to their Tip Jar: https://tips.pinecast.com/jar/americandad
Find out more at https://americandad.pinecast.co