E39 Shell Game
We got the egg madness, y'all!
1 year ago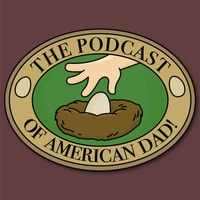 This week, the gang has a mature discussion about egg thieves, birding, dipping and Italian Americans.
Also, Christy refuses to believe that no one's eating the damn eggs.
Shoutout to Ian Durra for patronizing the podcast! You may not know this about us, but we actually LOVE being patronized. If you'd like to patronize us, click the link in our Instagram profile or yell something obvious at us on the street!
Check us out on Instagram or we'll hammer all your eggs! @bestofamericandad
Support American Dad! by contributing to their Tip Jar: https://tips.pinecast.com/jar/americandad
Find out more at https://americandad.pinecast.co