E47 Hamerican Dad!
Ham Puns, Red Eye Gravy, and The Cider House Rules
11 months ago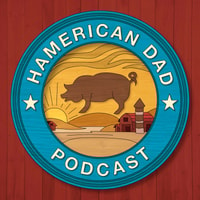 And All. That. Jaaaaazzzzzzzz! Ham.
This week, we discuss the finer points of Hamerican Dad! as requested by two of our lovely listeners. Keep those overwhelmingly positive reviews coming! What will we do with them? Uhhhh...
Thank you to our patron podcast saints: @nodeuces & Jake Wendelken. You guys keep the podcast up and crawling!
If you are also inexplicably a fan of the show and would like to help keep the podcast going, we appreciate it and feel guilty already: https://tips.pinecast.com/jar/americandad
We'll see you on Instagram! @bestofamericandad
Support American Dad! by contributing to their Tip Jar: https://tips.pinecast.com/jar/americandad
Find out more at https://americandad.pinecast.co